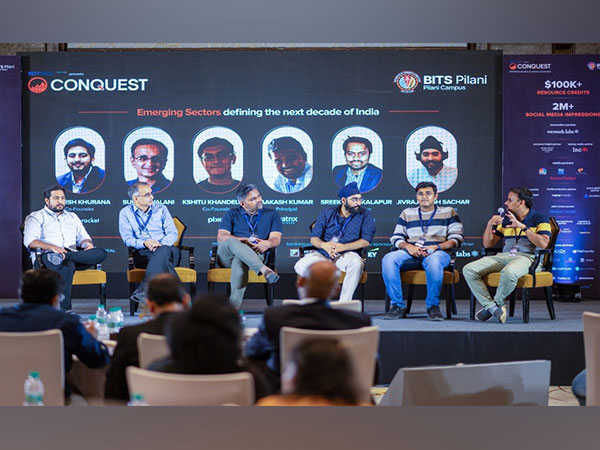 From Ideation to Impact: How Conquest BITS Pilani is Fueling India's Startup Journey
Jun 05, 2023
VMPL
New Delhi [India], June 5: With the number of startups skyrocketing from 3100 in 2014 to nearly 90,000 in 2023, India has solidified its position as the third-largest startup ecosystem globally, trailing only the United States and China. Additionally, it's adding around 80 startups daily, the highest figure in the world.
While India's startup ecosystem is brimming with potential, it is vital to acknowledge that startups often fail to navigate the intricacies of the competitive and constantly evolving business landscape. They struggle to secure funding, build sustainable business models, attract and retain talented employees, and differentiate themselves from the competition. As a result, many promising ideas and ventures fall by the wayside, unable to reach their full potential.
The high failure rate is a harsh reality of the startup world, where the path to success is paved with uncertainty and risks. It underscores the importance of providing comprehensive support and resources to startups, including mentorship, access to capital, networking opportunities, and a conducive regulatory environment. Conquest BITS Pilani, India's first and largest student-run startup accelerator, has emerged as a pivotal platform, nurturing and empowering the next generation of entrepreneurs in India. Specially catering to early-stage startups, it offers an extensive 7-week hybrid program established with the vision to transform ambitious ideas into successful ventures.


At Conquest, startups get to network with the ecosystem's leading figures and engage in insightful sessions led by luminaries like Nithin Kamath from Zerodha, Aadit Palicha from Zepto, and Dev Khare from Lightspeed, among others. These sessions go beyond surface-level discussions, delving into the core elements that shape the startup ecosystem, and are accompanied by investment workshops by leading VC firms like Accel and WestBridge that cover the nuanced aspects of fundraising.
Mentorship lies at the heart of Conquest's approach. With its network of 100+ CXOs, founders, and directors from leading organizations like Unacademy, Razorpay etc. and matching algorithms ensuring targeted guidance in areas where assistance is needed, entrepreneurs learn to navigate the complexities of the startup journey, whether it's refining business models, devising growth strategies, or overcoming operational hurdles. The mentorship relationships formed during the program often extend beyond its duration, creating long-lasting connections and an invaluable support system.
Following the 6-week long online phase, Conquest enters the Inflection phase, marking an important milestone for the startups. One of the key highlights of this week-long offline phase is the mock pitching sessions, which ensure that the startups are ready for Bangalore's most awaited startup event, the Demo Day, where the cohort participates in shark tank-style pitching to India's top VCs and angels. The most promising ones are awarded equity-free grants worth Rs 30L+.
Throughout its 18-year journey, Conquest has witnessed remarkable success stories. Thinkerbell Labs, with their self-learning braille device Annie, secured an investment of Rs 1.05 Cr on Shark Tank India Season 1, and have been lauded by PM Narendra Modi, INDIAai, TIME, and others. Other notable alumni include Bitespeed, which is backed by the likes of Kunal Shah and Sequoia Surge, and Social Cops, which turned into Atlan, a $500M company.
Conquest is set apart by the fact that it's entirely run by a dedicated team of 30 undergraduate students. This student-led approach infuses Conquest with a fresh perspective, vibrant energy, and a deep understanding of the challenges faced by aspiring entrepreneurs. However, Conquest's impact extends beyond student-run startups, welcoming ventures from all corners of the country.
In the words of Ashish Singhal, Co-founder and CEO at CoinSwitch & keynote speaker at Demo Day '22, "Amazing is the word I would use. This is the kind of environment India is looking forward to. India is now building companies, global companies. Lucky to see the energy in the room from amazing entrepreneurs building amazing products at Conquest."
Backed by WestBridge Capital, Conquest has returned with its 19th edition this year. With 2000+ startups already registered and a lineup of exciting events, it is all set to be the grandest edition yet. Aspiring startup founders can visit
to get registered.
(Disclaimer: The above press release has been provided by VMPL. ANI will not be responsible in any way for the content of the same)