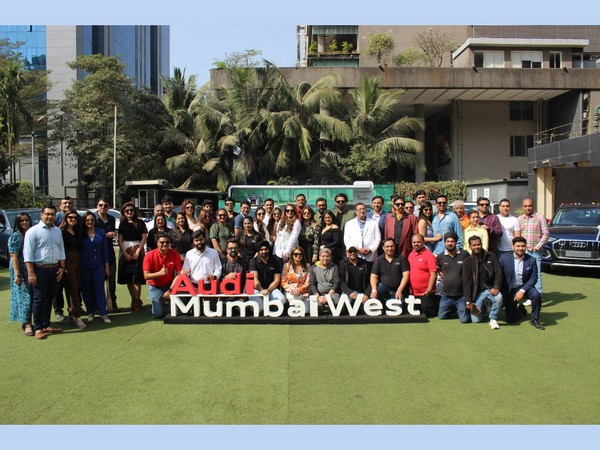 Audi Mumbai West - Delivering Style, Performance & Elegance
Jan 25, 2023
Mumbai (Maharashtra) [India], January 25 (ANI/PNN): Audi enthusiasts witnessed a first-of-its-kind grand celebration of Audi Q3 key handover ceremony with Audi Mumbai West on the occasion of Makar Sankranti.
2023 certainly looks promising with the launch of the Audi Q3, one of the most loved models from the quattro family.
The New Audi Q3 sports displays numerous useful addition with confidence. It has a dynamic overall design that screams urban lifestyle. Customers reacted favourably to its luxurious and pleasant ride, excellent performance, and variety of features.
The Q3 is an extremely appealing luxury car thanks to its svelte and contemporary exterior design, spacious and well-appointed interior with cutting-edge technology. The Audi Q3 has a stylish and athletic appearance that will draw attention on the road. It has a broad grille with the recognisable Audi insignia on it, along with angular lines that give it a lean, sporty aspect.


The event showcases a line-up of the stunning Audi Q3's that were ready to be handed over to the owners. Audi Mumbai West went above and beyond at the event. A grand delivery experience was executed at Sofitel BKC along with sales representatives who were highly effective and professionally managed.
Audi Mumbai West recognises the needs of elevated and personalized customer experience and strive to establish relationships that will last a lifetime. Elevating standards of customer experience to set pennants when it comes to opulence & exclusivity is deep-seated in all our enactments.
Audi India officials - Nitin Kohli - National Sales Head, Audi India along with Gautam Modi - Dealer Principal & MD Gautam Modi Group were present at the event to welcome its patrons to the Audi family.
For more details visit: Instagram:

This story is provided by PNN. ANI will not be responsible in any way for the content of this article. (ANI/PNN)